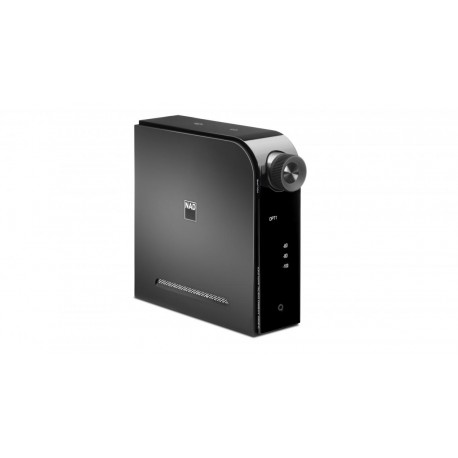  
D3020 Hybrid Digital Amplifier |NAD
Delivered within 2 - 3 office days
The D3020 is a compact and budget friendly all-round stereo amplifier with a powerful 2 x 30 watts. This amplifier can be placed either vertically or horizontally so that it fits easily into any space.
The D3020 is the best solution for all your digital music sources, via the digital inputs (optical and coaxial) or streaming via Bluetooth, but is also equipped with analog inputs so it's possible to connect for example an FM tuner. And thanks to the asynchronous USB input you can play music from your PC or NAS in Hi-Res 24 bit quality.
The D3020 has a separate headphone amplifier for superieur headphone sound quality.
CONNECT ALL YOUR DIGITAL DEVICES
There are inputs for your computer and for other digital and analog sources. The USB input uses 'asynchrounous' mode to insure the lowest possible jitter (timing errors) from notoriously unstable computer audio outputs and supports 24/96 HD studio master music files. Coaxial and optical inputs allow many different digital sources to be connected, from CD and DVD disc players, to set top boxes like AppleTV or satellite and cable receivers. There are also analog inputs for iPods and older non-digital audio components like FM tuners.
The D 3020, with its wireless Bluetooth capability, can stream music from smartphones, tablets and laptops and even supports the highest audio quality Bluetooth aptX that is becoming more and more popular for its excellent sound quality and low power consumption compared to Wi-Fi.
POWER THAT REALLY DELIVERS
Power output may sound small at 30 watts per channel, but like all NAD amplifiers this can be very misleading as a properly designed 30W amplifier can often sound superior to a 100W amplifier from a lesser brand. More important, the D 3020 can drive real loudspeakers to satisfying levels without adding noise or distortion. It's highly efficient design wastes less energy resulting in cool running and longer life. Standby power consumption is <0.5W.
Supplied with an IR Remote Control for convenience, the D 3020 is at home on a desk top, a book shelf or cabinet. But it deserves to sit on a pedestal for its incredible performance and affordable price!
D 3020 Hybrid Digital™ Amplifier
2 x 30W @ ≤0.005% THD, >100W Dynamic Power @ 4 Ohms
aptX Bluetooth Music Streaming
Supports bit rate/sample rate up to - 24/192 (via Digital Audio input) up to 24/96 (via Computer/Type B USB input)
Optical and Coaxial Digital Inputs, analog inputs
Subwoofer Output
Bass EQ setting 
Separate Headphone Amplifier
Wireless Remote
Data sheet
Dimensions

58 x 186 x 219mm

Weight

1.38 kg

Bit / Sample rate

up to 24/192 (via Digital Audio Input)

USB

Yes

Bluetooth

Yes

Remote Control

Yes

Input

1 x 12V trigger

Output

1 x Subwoofer Out

Analog Audio in

1 x RCA; 1 x AUX

Digital Audio in

1 x USB; 1 x Optical; 1 x Coaxial

Frequency Response

0dB to -0.3dB (20Hz - 20kHz)

Harmonic Distortion

≤0.005%

Continuous Power Handling (Watts Peak RMS)

2 x 30W (8 ohms)

Signal-Noise Ratio

≥90dB