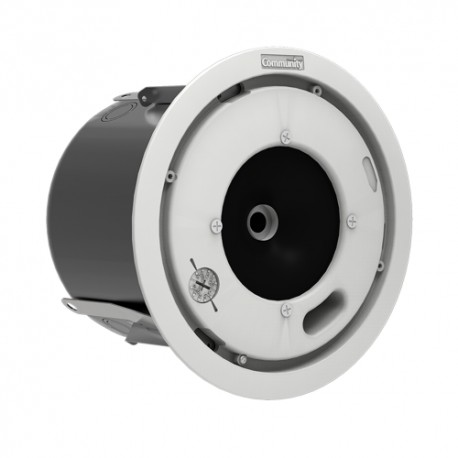  
D4 In-Ceiling loudspeaker | Community Professional
Delivered within 2 - 3 office days
APPLICATIONS
  Convention centers, exhibit halls
  Corporate training rooms, ballrooms
  Athletic venues, sports facilities, health clubs
  Houses of worship
  Malls, airports
FEATURES
High intelligibility with exceptional uniform coverage
Consistent, wide dispersion up to 16 kHz
True coaxial loudspeakers with HF compression drivers  Tru-PhaseTM high frequency waveguide
Patented Carbon Ring Cone TechnologyTM
Spring loaded Drop-StopTM installation assistant tabs support the back can on the included rails and C-ring to simplify installation
Uniquely designed tile bridge support rails and snap-on C-ring support plates prevent sag
Twist-AssistTM loudspeaker face retainer tabs for fast and easy installation
3⁄4-inch and 1-inch knock-outs on the sides of the back can
External loop-through Euroblock connectors
Rear cover with integrated cable clamp (strain relief) and optional conduit knockout
Selectable 8 ohm or 70V/100V operation
Back can and face-only packages available  Five year warranty 
The smallest member of the D SERIES, the D4 possesses the advanced features of its larger siblings with performance that belies its small size. Suitable for paging, background music, or to augment larger systems, the D4 is a versatile performer. It installs quickly and provides exceptionally uniform coverage with excellent sonic properties.
Uniform voicing among the Distributed Design product family makes for an easy match to the other models in the series, while a host of design innovations set the D4 apart from other products in its size and price range. Featuring genuine coaxial design with separate magnets for the LF and HF drivers, the D4 exhibits reduced distortion and industry-leading sensitivity permitting 3 dB to 6 dB greater output level, while requiring half the amplification power of competing products.
The proprietary Tru-PhaseTM waveguide and perfectly centered driver produce a consistently wide conical polar response up to 16 kHz. Community's patented Carbon Ring Cone TechnologyTM increases the effective cone area to further reduce distortion while reinforcing the cone for improved durability.
Exclusive Drop-StopTM and Twist-AssistTM tabs allow single-handed placement to speed installation and reduce labor time. Drop-Stop's spring-loaded legs support the back can on the included tile rails and snap-on C-ring, so that the installer no longer needs to hold the can against the tile while tightening the clamps. Twist-Assist performs a similar function for the baffle assembly: when the loudspeaker back cans are pre-installed into a conduit system for termination at a later date, a simple twist of the baffle into the back can brings the Twist-Assist clips together, supporting the baffle assembly while the installer fastens the screws.
The front-face wattage selector switch enables quick adjustment of 70V/100V tap levels. A variety of installation accessories are available to accommodate different ceiling materials. The D4 face-only assembly and back can are also available on request for separate purchase. 
Data sheet
Dimensions (ØxD)

248.1 Ø x 172.4 mm

Uitgesneden Afmetingen

222 mm

Color

White paintable

Speaker type

In-Ceiling

Weight

3.4 kg

System

2-way

Fonctions

Front-face wattage / low impedance selector switch

Drive Units

LF 1 x 4.5-inch ;
HF 1 x 3⁄4-inch exit compression driver

Driver protection

Self-resetting solid state circuit breaker

Connectivity

4-position Euroblock connector

Frequency Response

62 Hz - 18.5 kHz ; 85 Hz - 16 kHz (±5 dB)

High-Pass Filter

Recommended 62 Hz high pass

Dispersion

140° conical (500 Hz to 6 kHz)

Axial Q / Directivity Index

4 / 6, 500 Hz to 6 kHz

Crossover frequency

2 kHz

Sensitivity

91 dB SPL (120 Hz to 12.5 kHz 1/3 octave bands) ; 92 dB SPL (250 Hz to 4 kHz speech range)

SPL (Sound Pressure Level)

109 dB SPL / 115 dB SPL (peak 8 ohm)

Impedance

8 ohm

Continuous Power Handling (Watts Peak RMS)

60W continuous (22V RMS)

Peak Power Handling

150W program (49V momentary peak)

Transformer taps 100V

30W, 15W, 7.5W
30W, 15W, 7.5W, 3.75W and 8 ohm

Enclosure Type

Corrosion-resistant zinc plated steel back can ; Reflex loaded UL 94V-0 rated ABS baffle

Grille

Powder coated steel with safety line, white finish, paintable

Mounting/Rigging provisions

3 steel mounting clamps with 3-inch grip range

Safety

3 x safety hang points

Required accessoires

Electronic high pass filter

Included Accessories

C-Ring supporting plate, tile support bridge rails, grille, paint mask, cut-out template, flat screwdriver

Optional accessoires

D45-FAR Face Adapter ring ;
D45-CATR Can Adapter Ring / Trim Ring ; D45-NCB New Construction Bracket