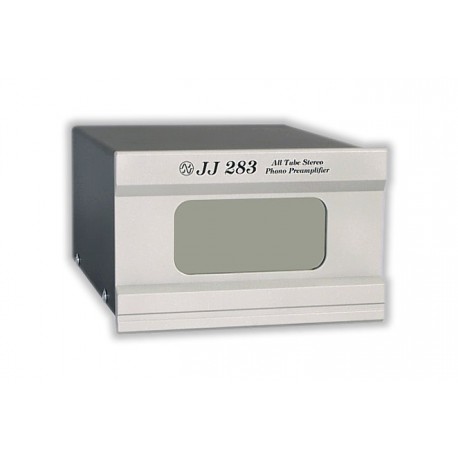  
JJ283 phono tube preamplifier | JJ Electronics
The JJ283 is an all tube stereo preamplifier, intended to amplify audio signals from turntables with a moving magnet (MM) type cartridge. It can be used also for MC type cartridges with an output voltage of more than 1 mV.
This preamplifier is a set consisting of two pieces: a power supply and a preamplifier. The power supply is connected to the power mains with a power cord and to the amplifier with a feeding connector.
The JJ283 has one pair of input connectors and one pair of output connectors. These connectors are high quality gold plated RCA connectors (CINCH) with internal insulation made of Teflon. We recommend using high quality signal cables, less than one meter long for both input and output connections.

The ground connector for the turntable chassis is located next to the RCA connectors.

Selectors for input capacitance or resistance (blue switches) are located in the front section of the JJ283. They are accessible by removing the top panel. These switches have four positions. All positions in OFF give input capacitance 150pF and input resistance 47kOhms. Both positions 1 and 2 ON provide 100pF, which together with base capacitance results in 350 pF / 47 kOhms. Positions 3 and 4 are for MC type cartridges with output voltage more than 0.8 mV. Position 3 ON connects an input capacitance of 150 pF and position 4 ON connects 1000 Ohms resistance. In some circumstances, setting 3+4 ON, or, for some MC cartridges, 1+2+3+4 ON, can be appropriate. After the selectors are set, the ground connector of the top panel must be reconnected and the panel reassembled with all provided screws.
The sound quality of the JJ283, based on listening tests, far exceeds the level which may be indicated by its price.
The JJ283 is one of the few phone preamplifiers on the market which are able to drive most of the power amps directly without a line preamplifier. This is because in the case of classic MM cartridges, the JJ283 provides 1V output voltage.
Data sheet
Color

Silver front and black case

Weight

4,8 kg

Input sensitivity

See description

Input Impedance

See description

Output impedance

500 ohm

Input

RCA (unbalanced) x 2 and GND x 1

Output

RCA (unbalanced) x 2

Phono input

Yes

Signal-Noise Ratio

66dB

Max. Output Power

15V max output

Tubes

ECC83S x 4