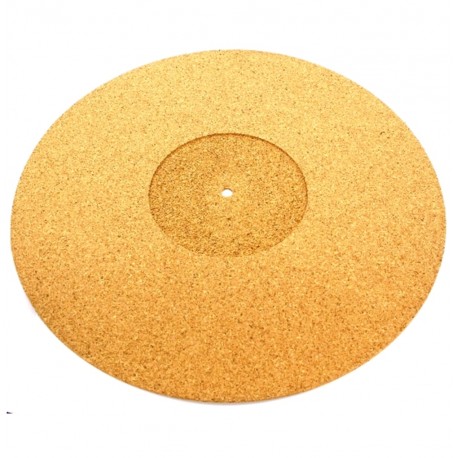  
Pure Cork turntable mat | Tonar
Delivered within 2 - 3 office days
Tonar Pure Cork turntable mat. Cork material is known to dampen and absorb unwanted vibrations. This cork mat works very well on most turntables, due to its non-resonant properties.
Acoustic feedback is one of the big problems when playing records. The cause is the sound that has just been produced by the speakers which comes back to the record player and cause it to vibrate. The problems is that there is a very slight time difference between the reproduced sound and the sound that is fed back onto the record player.  This results in a big loss of detail and clarity and makes the sound "muddy". So every effort has to be done to isolate the record player from its surroundings as well as to isolate the record from the record player.
In order to reduce acoustic feedback from the surroundings back to the record and the cartridge a lot of effort has gone into developing turntable mats that make the reproduced sound crystal clear with great separation and detail. This has been done by experimenting with various materials which absorb unwanted vibrations which were not present in the original recording. Now many people are trying to combine these different materials as a sandwich at the same time in order to reach better results.
Sonar offers a large selection of commercially manufactured mats made from different materials for you to be able to experiment and find the best mat for the different recordings in your collection. All Tonar mats (except the Nostatic mat and the Leather mat) have a depressed center section allowing space for the thicker record label so the vinyl record can lay perfectly flat on the mat in order to have full advantage of the effect of the different materials used. All mats have a diameter of 295mm.
Data sheet
Dimensions (ØxD)

295 x 3 mm

Finish

Cork

Recommended Placement

non-resonant properties