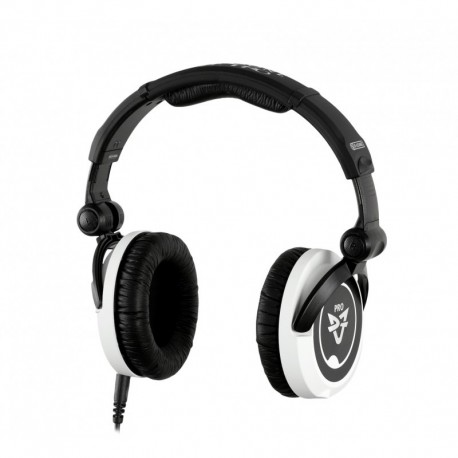  
DJ1 PRO | Ultrasone
Delivered within 2 - 3 office days
The extremely high-performance 50mm Mylar sound transducer creates superior sound pressure with greater efficiency and is also designed for high input level. These headphones also offer the patented Ultrasone ULE technology as standard to shield up to 98% of magnetic radiation.
The safe-hearing features provided by the S-Logic® Natural Surround Sound technology are also extremely important to DJs. And, as you would expect of the DJ1PRO, it is ideal for one-ear listening. The ear cups can be rotated and folded away.
In addition, the DJ1 PRO comes in a PRO box specially adapted to the needs of DJs. This box ensures safe transport and contains exras such as two different cables (a 3m coiled cable with a 6.3mm stereo jack, and a 0.8m straight cable with a 3.5mm stereo jack) and easily interchangeable replacement ear pads. 
S-Logic® Natural Surround Sound - Hearing is like seeing: 3-dimensional
The patented S-Logic® technology is described as Natural Surround Sound. No other digital surround system can compare with this standard. As the sound of normal headphones will sound direct and even on both sides, the S-Logic® system pushes the sound around your head. Instead of hitting the inner ear directly, the signals are reflected off the surface of the outer ear in different directions before entering the auditory canal to create a natural 3-dimensional sound. It appears as though you are listening to speakers meters away. Even at very low levels, this spacious sound allows you to hear precisely. And on top, the S-Logic® technology does not require additional equipment.
Safer hearing
S-Logic® creates a Natural Surround Sound sensation and allows at the same time a reduction of sound pressure levels at the eardrum by up to 40% ( 3-4 dB). This may reduce the risk of hearing damage while ensuring hours of fatigue-free listening. However, we generally advise not to listen to music at high volumes to prevent hearing damage.
S-Logic® Plus
S-Logic® Plus is the newest advancement in the S-Logic® Natural Surround System, squeezing the BIG S-Logic® soundstage found in our PRO series headphones into the more streamlined ear-cups of select HFI & DJ models (HFI-580, HFI-680, HFI-780, DJ1).
S-Logic® Plus profits directly from innovations developed for our flagship Edition range, the ultimate headphones for critical listening. This sophisticated new technology combines precision dampening with micro-acoustic reinforcement, allowing driver, buffer-board, and spatial parameters to complement one another in an optimal manner. So the acoustically redesigned ear-cups of these new models and their tonal fine-tuning result in a most neutral sound impression with more vivid perception of voices and instruments.
Ultrasone - ULE-technology
(Ultra Low Emission) - MU Metal shielding
Most headphone drivers produce low-frequency magnetic fields as they convert an electrical signal into the acoustical signal that we hear as music. Ultrasone has developed a special MU Metal shielding that we call ULE (for Ultra Low Emissions) to reduce this radiation by up to 98%, compared to conventional headphones. This technology has withstood the test of international review and is recommended by technical surveillance organizations. Ultrasone originally developed ULE-technology for PROfessionals, since they spend half of their lives in headphones. But due to overwhelming consumer demand, we are pleased to offer ULE in the other Ultrasone lines.
Data sheet
Weight

295 gr

System

Closed

Loudspeaker

Mylar, 50mm

Frequency Response

10 - 22.000 Hz

SPL (Sound Pressure Level)

102 dB

Impedance

64 ohm

Cable length

Detachable cord, ca. 0.8 m straight and ca. 3 m coiled cord

Included Accessories

Detachable cord, ca. 0.8 m; straight and ca. 3 m coiled cord;Transportation box;2nd pair speed-switch leatherette ear pads;Instruction manual

Extra

S-Logic® Plus;ULE-Technology