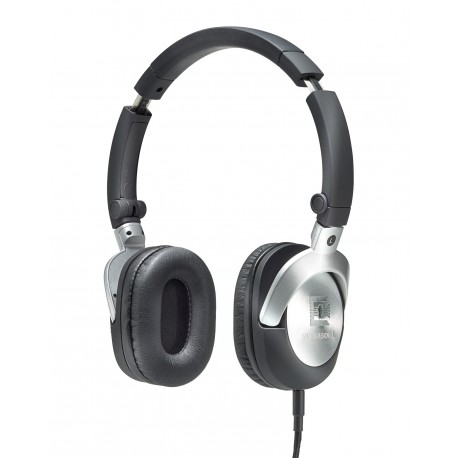  
Go | Ultrasone
Delivered within 2 - 3 office days
The mobile Go captivates with its elegant black and silver design. These smart companions are adorned with high-quality aluminium plaques with an eye-catching diamond-cut logo on the ear cups. The Go was developed especially for iPods, MP3 players, other portable music sources and mobile equipment. You can wear the Go as a stylish accessory around your neck or fold it up in next to no time ready for transport. Thanks to the special folding technology, the Go requires minimal storage space.
Special emphasis was placed on sound reproduction with the highest audio quality in the development of these mobile headphones.
As closed-back headphones, they delight the ears with professional sound thanks to the patented S-Logic® Natural Surround Sound technology, and allow you to enjoy voices and music 3-dimensionally, wherever you are. The customisable headband allows easy adjustment for a comfortable and stable fit. The tried-and-tested protein leather ear pads adjust themselves to fit your ears snugly and guarantee pleasant wear comfort. The Go is equipped with a detachable 1.15m cable with a gold-plated stereo jack including microphone and remote control. With the Go as your companion you'll be ready for anything, anytime.
S-Logic® Natural Surround Sound - Hearing is like seeing: 3-dimensional
The patented S-Logic® technology is described as Natural Surround Sound. No other digital surround system can compare with this standard. As the sound of normal headphones will sound direct and even on both sides, the S-Logic® system pushes the sound around your head. Instead of hitting the inner ear directly, the signals are reflected off the surface of the outer ear in different directions before entering the auditory canal to create a natural 3-dimensional sound. It appears as though you are listening to speakers meters away. Even at very low levels, this spacious sound allows you to hear precisely. And on top, the S-Logic® technology does not require additional equipment.
Safer hearing
S-Logic® creates a Natural Surround Sound sensation and allows at the same time a reduction of sound pressure levels at the eardrum by up to 40% ( 3-4 dB). This may reduce the risk of hearing damage while ensuring hours of fatigue-free listening. However, we generally advise not to listen to music at high volumes to prevent hearing damage.
Data sheet
Weight

133 gr

System

Closed, on-ear

Loudspeaker

PET, 40 mm

Frequency Response

20 - 20000 Hz

SPL (Sound Pressure Level)

96 dB

Impedance

32 Ohm

Cable length

1.15m Straight, detachable

Included Accessories

Transportation bag

Extra

S-Logic® Basic